lawn care and gardening services
The temperature of your yard is an important factor to consider when you decide to start lawn care and gardening services.  Cool season grasses like we have here in Iowa will start growing around 40 degrees. You may notice things are just starting to change from brown to green in your lawn.  In comparison, crabgrass weeds will start to germinate around 50 degrees.  This difference creates an important target timeframe to start treating for crabgrass.  Nice & Precise Lawn Care uses professional products from SiteOne that will provide effective control for 4 months and sometimes longer depending on the weather conditions. Since Nice & Precise is a local lawn care and gardening service we live in the community we service which also gives us the advantage of understanding the current weather trends.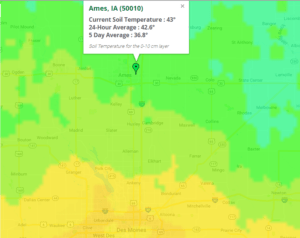 lawn treatment service
Your customer satisfaction is our top priority, and because of this, we want to ensure we use the best weed control products on your lawn when the time is right.  As you've probably noticed, we are off to a slower spring this year.  We are just starting the first lawn treatment service of fertilizer and crabgrass pre-emergent weed control products compared to the past years where we would be much further along.
other lawn care services
Nice & Precise offers many lawn care and gardening services at affordable prices.
Mowing from $30
Fertilizer and Weed Control from $50
Mosquito Control from $55